Bottling day
On October 22, I tasted the little 8 liter cask my son-in-law and I had lying at Fary Lochan distillery and it was an interesting experience, what a development.
Here just another 2 months later it became bottling day.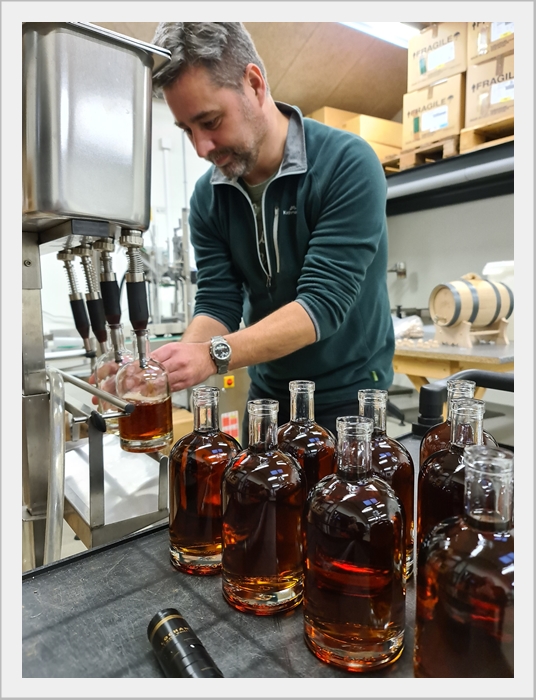 The decision to fill bottles before Christmas was made in October, because the development had been almost explosive and if it continued at that speed, I thought the taste could go over thread.
I have been excited to see if it went one way or the other with the taste in the time that passed from October to December 17th. Would it become stronger, would it become more round, would it become bitter due to too much wood?

The development has not been as explosive as at the first experience and the youth's vitality also shows in the nose, which is a bit of a fun experience since the alcohol percentage has dropped from 62.3% to 59.23% – which means a decrease of 3.07% in 110 days.
I'm glad we bottled on December 17th. It's a lovely whisky with fullness and with power.
Let´s taste it:
If you leave the whisky in the glass for a while, you will have a new good experience. A light tingle in the nose and then there is raisins, a little spice and vanilla sweetness.
The taste is oily, raisins, pepper, vanilla and a little pear.
The finish has a bit of dark chocolate, pear and wood. It disappears a little and then it comes back after 5-10 minutes, with a nice raisin aftertaste.
What happens with added water:
I have added 10 drops of water to 2 cl. whisky.
There is still a slight tingle in the nose, but not as marked as if there was no water in. You get a more round and mild raisin and plum fullness mixed with the vanilla sweetness.
The taste changes with added water, but it is certainly not to the bad side. I get more notes of dark chocolate, raisins, plum, vanilla and more fullness.
The finish is still long and pleasant with the same notes as if no water had been added.
Adding more water further enhances the taste of wood.
I think it was a good decision we made to bottle earlier than the half to full year I probably had expected it to lie. It's unknown how it would taste if we left it, that's true, but then maybe we should just experiment with something else 🙂
The Private Cask label from Fary Lochan is the first to be put on bottles and is blue with gold writing and stand out from the labels we know from Fary Lochan. It looks beautiful, elegant and exclusive.
I added my own little sticker with my logo.
With a 3 year old Fary Lochan "Summer" variant that has matured in a ex-bourbon cask from Buffalo Trace, it can not go wrong.
The basic product and the maturation cask is top notch.
The small 8 liter cask also has a good quality and together with the PX sherry that has been in the cask before, is also top notch.
110 days in the small cask is equal to approx. 1 year of maturation.

All in all, a good experience and the result is a wonderful whisky to be enjoyed.
🅵🅰🅲🆃🆂
𝘿𝙞𝙨𝙩𝙞𝙡𝙡𝙚𝙧𝙮: Fary Lochan
𝙉𝙖𝙢𝙚: Whisky Adventurer – Private Cask
𝙏𝙮𝙥𝙚: Single Malt
𝘾𝙤𝙪𝙣𝙩𝙧𝙮: Denmark
𝘼𝙜𝙚: 3 years and 110 days
𝘼𝙡𝙘 %: 59.23
𝘾𝙖𝙨𝙠𝙨: Ex-Bourbon (Buffalo Trace) 3 years, PX finish in 8 liter cask, 110 days
𝘾𝙝𝙞𝙡𝙡-𝙛𝙞𝙡𝙩𝙚𝙧𝙚𝙙: No
𝙉𝙖𝙩𝙪𝙧𝙖𝙡 𝙘𝙤𝙡𝙤𝙪𝙧: Yes
𝘿𝙞𝙨𝙩𝙞𝙡𝙡𝙚𝙙 𝙞𝙣: 2017.08.08
𝘽𝙤𝙩𝙩𝙡𝙚𝙙 𝙞𝙣: 2020.12.17
Number of bottles: 13
🅼🆈 🆃🅰🆂🆃🅸🅽🅶 🅽🅾🆃🅴🆂
👃: A light tingle in the nose and then there is raisins, a little spice and vanilla sweetness
👄: oily, raisins, pepper, vanilla and a little pear
😋: a bit of dark chocolate, pear and wood. It disappears a little and then it comes back after 5-10 minutes, with a nice raisin aftertaste
𝙄 𝙬𝙞𝙡𝙡 𝙜𝙞𝙫𝙚 𝙩𝙝𝙞𝙨 𝙬𝙝𝙞𝙨𝙠𝙮: 🥃🥃🥃🥃🥃🥃 (6/6) 😉
🅼🆈 🆁🅰🆃🅸🅽🅶 🆂🆈🆂🆃🅴🅼
🥃🥃🥃🥃🥃🥃 – 𝙀𝙭𝙩𝙧𝙖𝙤𝙧𝙙𝙞𝙣𝙖𝙧𝙮 𝙬𝙝𝙞𝙨𝙠𝙮 – 𝙙𝙚𝙛𝙞𝙣𝙞𝙩𝙚𝙡𝙮 𝙖 𝙠𝙚𝙚𝙥𝙚𝙧
🥃🥃🥃🥃🥃 – 𝘼 𝙗𝙚𝙖𝙪𝙩𝙞𝙛𝙪𝙡 𝙬𝙝𝙞𝙨𝙠𝙮 – 𝙊𝙣𝙚 𝙛𝙤𝙧 𝙩𝙝𝙚 𝙨𝙝𝙚𝙡𝙛
🥃🥃🥃🥃 – 𝙂𝙤𝙤𝙙 𝙖𝙣𝙙 𝙄 𝙙𝙤𝙣'𝙩 𝙝𝙖𝙫𝙚 𝙩𝙤 𝙩𝙝𝙞𝙣𝙠 – 𝙈𝙮 𝙚𝙫𝙚𝙧𝙮𝙙𝙖𝙮 𝙙𝙧𝙖𝙢 𝙢𝙖𝙮𝙗𝙚
🥃🥃🥃 – 𝙉𝙤𝙩 𝙗𝙖𝙙 – 𝙄'𝙡𝙡 𝙙𝙤 𝙞𝙩 𝙖𝙜𝙖𝙞𝙣 𝙨𝙤𝙢𝙚 𝙙𝙖𝙮
🥃🥃 – 𝙄𝙩 𝙬𝙖𝙨 𝙛𝙪𝙣 𝙩𝙖𝙨𝙩𝙞𝙣𝙜, 𝙗𝙪𝙩 𝙄 𝙢𝙞𝙜𝙝𝙩 𝙣𝙤𝙩 𝙙𝙤 𝙞𝙩 𝙖𝙜𝙖𝙞𝙣
🥃 – 𝙇𝙚𝙩'𝙨 𝙟𝙪𝙨𝙩 𝙨𝙖𝙮 𝙄 𝙝𝙖𝙫𝙚 𝙩𝙧𝙞𝙚𝙙 𝙞𝙩