---
It's absolutely crazy what happens in small casks.
On December 17, 2020, we bottled a small 7 liter cask from Fary Lochan. It became a delicious cask strength just a little over 3 years old. You can read more about it in this post: Private Cask
That same day, we filled Fary Lochan New Make on the same small cask. A 7 liter cask new European oak, that has contained PX sherry for a short time.
Now the cask has contained whisky for a few months and it will be exciting to see how it develops over a 3 year period ….
But things really explode in this cask!
I'm going to find a cooler place for it otherwise there will be no whisky left in another 2½ years.
I remember Morten (CEO, Fary Lochan) telling that there was a high evaporation in the time maturing of the first whisky at the distillery. It was probably around 8%. I thought it seemed a bit high for a place like Denmark, but by measuring this little cask here at my house ½ years after filling, I must say that the angels have been greedy. As much as 8.57% of the new make have evaporated ….. (60 cl)
We do not have a alcohol meter and have therefore not been able to measure the strength, but it could be fun to see how the alcohol percentage has developed.
The size of the cask and the contact between alcohol and wood is good for ripening, which also means that it goes faster.
On the 17th of February (2021) we looked at the colour development. The two months that have passed has given colour as if it had been stored on a used bourbon cask for 3 years. Light yellow, but not imprinted. Yes, we also nosed, but did not taste this day. The scent was still the fat citrusy New Make that Fary Lochan makes, but had started to give notes of a little vanilla sweetness.
And now to the wild jump. We have not touched the cask for another 4 months before June 19th, 2021. Here we were somewhat surprised by the colour and the development of aroma and taste.
The storage time on the small 7 liter cask is currently 6 months. To be more precise, we measured, smelled and tasted 184 days after filling.
If we had matured on an ordinary 225 liter barrel, the development would not have gone quite as fast as it is now. In the small cask it corresponds to having matured for approx. 1 ½ year on a 225 liter barrel – wow.
A beautiful Golden Amber colour has been created and the scent has developed to having plums, raisins, pears, green apples, mild crème brûée and a little grass. It still has the young feel, but it has become a lot more round.
The taste has distinct sherry, raisin and again some grass notes. The mouthfeel is nicely oiled.
The finish is creamy, arugula, a little vanilla sweetness and actually stays quite long.
It is going to be difficult to wait 2½ more years, and I wonder if it has all evaporated by that time ….
We talked about, if we served this to others without telling how old it is, they might have a hard time believing it is not 3 years, but only ½ years.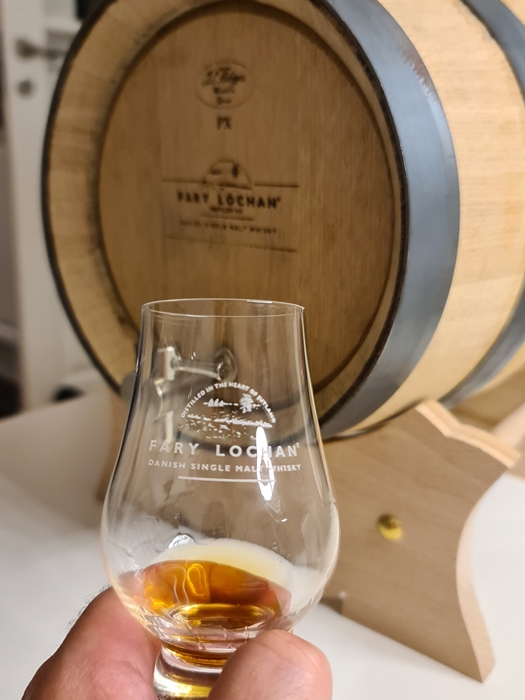 🅵🅰🅲🆃🆂
𝘿𝙞𝙨𝙩𝙞𝙡𝙡𝙚𝙧𝙮: Fary Lochan
𝙏𝙮𝙥𝙚: Single Malt
𝘾𝙤𝙪𝙣𝙩𝙧𝙮: Denmark
𝘼𝙜𝙚: 6 months
𝘼𝙡𝙘 %: ?
𝘾𝙖𝙨𝙠𝙨: Px sherry
𝘾𝙝𝙞𝙡𝙡-𝙛𝙞𝙡𝙩𝙚𝙧𝙚𝙙: No
𝙉𝙖𝙩𝙪𝙧𝙖𝙡 𝙘𝙤𝙡𝙤𝙪𝙧: Yes
𝘿𝙞𝙨𝙩𝙞𝙡𝙡𝙚𝙙 𝙞𝙣: December 2020
𝘽𝙤𝙩𝙩𝙡𝙚𝙙 𝙞𝙣: Nope, not yet
𝙇𝙞𝙢𝙞𝙩𝙚𝙙: Very
🅼🆈 🆃🅰🆂🆃🅸🅽🅶 🅽🅾🆃🅴🆂
👃: Plums, raisins, young, pears, green apples, mild crème brûée, a little grass
👄: Oily, clear sherry, raisin, grass
😋: Medium to long, creamy, arugula, a little vanilla sweetness