On my recent visit to Fary Lochan Distillery, Master Distiller Morten Jørgensen challenged me with a recipe for Hokkaido soup. I'm not particularly fond of Hokkaido soup, so that's where the challenge lies. Morten told me that Fary Lochan has a Whisky and a Gin featured in Whisky.dk's cookbook "Mad med promiller #1.0." It's in Danish….
Already on page 7 of the book, you'll find the recipe for Hokkaido soup with Fary Lochan – Sweet & Spicy Moscatel – Batch 01. A lovely whisky, but I found out that I didn't have it on my shelf – ohh nooo…
So, what did I have on hand that could make a good soup? Yes, I had Sweet & Spicy Sauternes – Batch 01. Although they don't taste the same, I thought it might come closest in terms of Sweet and Spicy nuances.
I won't bore you with all the steps of preparation, but I must say that Fary Lochan's uncompromisingly delicious whisky in Hokkaido soup has convinced me that it can indeed be enjoyed.
My wife sends a big thanks to Jan Ohrt, the creator of the recipe, Ulrik and Henrik from Whisky.dk for the opportunity to see Jan's recipes, and especially Morten from Fary Lochan for giving me the challenge.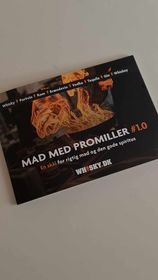 𝗝𝗮𝗻 𝗼𝗴 𝗪𝗵𝗶𝘀𝗸𝘆.𝗱𝗸's 𝗛𝗼𝗸𝗸𝗮𝗶𝗱𝗼𝘀𝘂𝗽𝗽𝗲 with 𝗙𝗮𝗿𝘆 𝗟𝗼𝗰𝗵𝗮𝗻 𝗪𝗵𝗶𝘀𝗸𝘆:
6 cl. Fary Lochan Whisky Sweet & Spicy Moscatel. (I used Sweet & Spicy Sauternes with great success)
1 Hokkaido pumpkin,
1 chopped onion,
4 cloves of chopped garlic,
2 carrots in cubes,
4 potatoes in cubes,
1 tsp. finely chopped red chili,
½ tsp. cumin,
1 tsp. finely grated ginger,
1 liter vegetable broth,
1 dl. whipping cream,
1 tbsp. olive oil,
1 tbsp. lemon juice,
salt and pepper.
𝗧𝗼𝗽𝗽𝗶𝗻𝗴:
1 dl. roasted pumpkin seeds,
2 dl. Greek yogurt (I used creme fraiche, and it works fine too)
2 apples in small cubes, juice from half a lemon,
1 tsp. salt, freshly ground pepper.
Garnish with pink pepper and fresh basil (I used parsley).
Thanks for the challenge Morten! Now I can enjoy a Hokkaido soup – The Whisky made me do it
𝗔𝗯𝗼𝘂𝘁 𝘁𝗵𝗲 𝗪𝗵𝗶𝘀𝗸𝘆:: Fary Lochan Sweet & Spicy Sauternes Batch 01
Aged for 7 years & 3 months.
First, 3 years & 6 months in a 1st Fill Bourbon Barrel.
Then, 3 years & 9 months in a 1st Fill Sauternes Barrique.
Barrels were filled on November 5, 2015, and May 14, 2019.
The whisky was bottled on February 7, 2023, at 57.2%.
🅼🆈 🆃🅰🆂🆃🅸🅝🅶 🅽🅾🆃🅴🆂
🅝🅞🅢🅔
Pleasant, fresh sweetness, soft peppermint, vanilla, sweet grapes, flowers, pineapple, a touch of strawberries.
🅣🅐🅢🅣🅔
Dry, spicy, caramel, vanilla, red berry jam, candied ginger, oak.
🅕🅘🅝🅘🅢🅗
Medium to long, soft notes of boysenberry jam, honey, and perhaps a bit of vanilla milkshake.
🅾🆅🅴🆁 🅰🅻🅻
It's a delightful dram with sweetness, freshness, and just the right amount of spiciness to give it a kick and warm you up.