One of the distilleries I want to visit one day after all this corona, is Puni Distillery in Italy.
The distillery is from 2012 and has the form of a copper cube – different but beautiful.
I got my self a bottle of GOLD from Puni while I wait for the borders to open.
Sipping the Gold whisky confirms that I have to visit one day, it is a very pleasant whisky. Soft, sweet and still with a kick. A nice summer whisky or aperitif.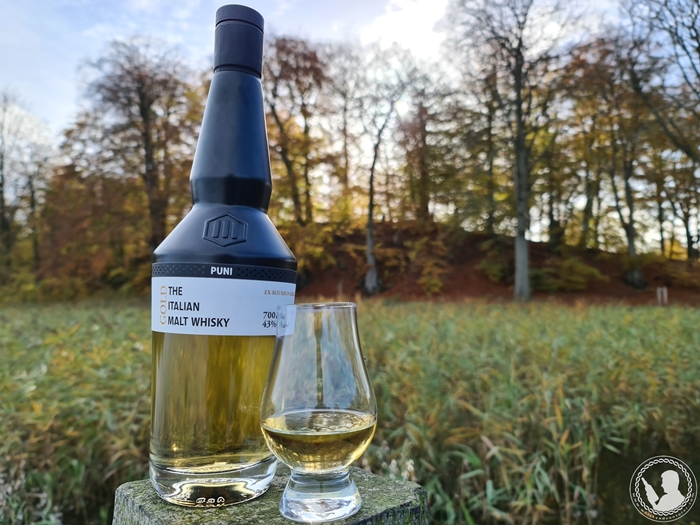 🅵🅰🅲🆃🆂
𝘿𝙞𝙨𝙩𝙞𝙡𝙡𝙚𝙧𝙮: Puni
𝙉𝙖𝙢𝙚: Gold
𝙏𝙮𝙥𝙚: Single Malt
𝘾𝙤𝙪𝙣𝙩𝙧𝙮: Italy
𝘼𝙜𝙚: 5 Years old
𝘼𝙡𝙘 %: 43
𝘾𝙖𝙨𝙠𝙨: First fill ex-bourbon
𝘾𝙝𝙞𝙡𝙡-𝙛𝙞𝙡𝙩𝙚𝙧𝙚𝙙: No
𝙉𝙖𝙩𝙪𝙧𝙖𝙡 𝙘𝙤𝙡𝙤𝙪𝙧: Yes
𝘿𝙞𝙨𝙩𝙞𝙡𝙡𝙚𝙙 𝙞𝙣:
𝘽𝙤𝙩𝙩𝙡𝙚𝙙 𝙞𝙣:
🅼🆈 🆃🅰🆂🆃🅸🅽🅶 🅽🅾🆃🅴🆂
👃 Vanilla, pears, sweet spices
👄 Light ginger, vanilla, pears, floral notes
😋 Peppery, salty toffee, light oak
Maybe it is a little classic for a ex-bourbon matured but it has a fine Italian touch
𝙄 𝙬𝙞𝙡𝙡 𝙜𝙞𝙫𝙚 𝙩𝙝𝙞𝙨 𝙬𝙝𝙞𝙨𝙠𝙮: 🥃🥃🥃🥃 (4/6)
🅼🆈 🆁🅰🆃🅸🅽🅶 🆂🆈🆂🆃🅴🅼
🥃🥃🥃🥃🥃🥃 – 𝙀𝙭𝙩𝙧𝙖𝙤𝙧𝙙𝙞𝙣𝙖𝙧𝙮 𝙬𝙝𝙞𝙨𝙠𝙮 – 𝙙𝙚𝙛𝙞𝙣𝙞𝙩𝙚𝙡𝙮 𝙖 𝙠𝙚𝙚𝙥𝙚𝙧
🥃🥃🥃🥃🥃 – 𝘼 𝙗𝙚𝙖𝙪𝙩𝙞𝙛𝙪𝙡 𝙬𝙝𝙞𝙨𝙠𝙮 – 𝙊𝙣𝙚 𝙛𝙤𝙧 𝙩𝙝𝙚 𝙨𝙝𝙚𝙡𝙛
🥃🥃🥃🥃 – 𝙂𝙤𝙤𝙙 𝙖𝙣𝙙 𝙄 𝙙𝙤𝙣'𝙩 𝙝𝙖𝙫𝙚 𝙩𝙤 𝙩𝙝𝙞𝙣𝙠 – 𝙈𝙮 𝙚𝙫𝙚𝙧𝙮𝙙𝙖𝙮 𝙙𝙧𝙖𝙢 𝙢𝙖𝙮𝙗𝙚
🥃🥃🥃 – 𝙉𝙤𝙩 𝙗𝙖𝙙 – 𝙄'𝙡𝙡 𝙙𝙤 𝙞𝙩 𝙖𝙜𝙖𝙞𝙣 𝙨𝙤𝙢𝙚 𝙙𝙖𝙮
🥃🥃 – 𝙄𝙩 𝙬𝙖𝙨 𝙛𝙪𝙣 𝙩𝙖𝙨𝙩𝙞𝙣𝙜, 𝙗𝙪𝙩 𝙄 𝙢𝙞𝙜𝙝𝙩 𝙣𝙤𝙩 𝙙𝙤 𝙞𝙩 𝙖𝙜𝙖𝙞𝙣
🥃 – 𝙇𝙚𝙩'𝙨 𝙟𝙪𝙨𝙩 𝙨𝙖𝙮 𝙄 𝙝𝙖𝙫𝙚 𝙩𝙧𝙞𝙚𝙙 𝙞𝙩