The 22 year Ardbeg in the "Twenty Something" Serie is fantastic and then I tasted this 23 year old…. Fabulous – Love it.
I could stand with this 23 year old whisky for a very long time, just nosing it. It deserves to be enjoyed over a longe periode of time, it just keeps on giving.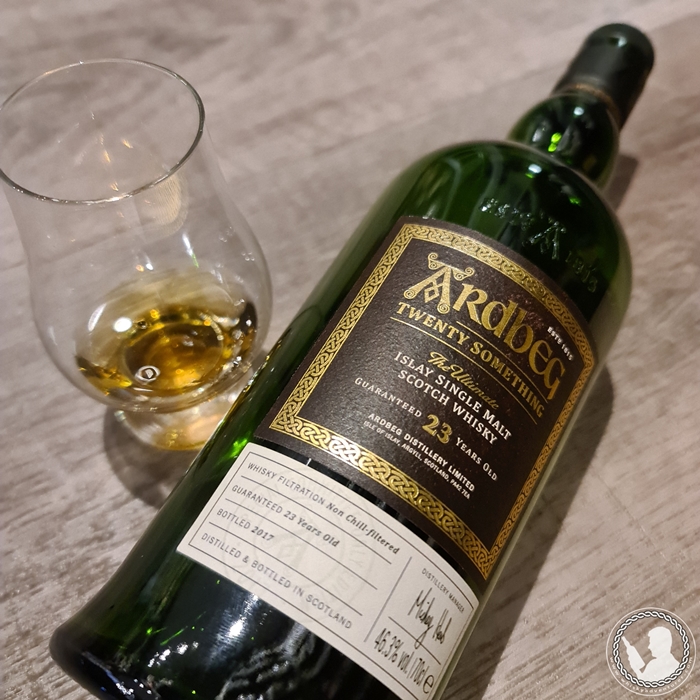 🅵🅰🅲🆃🆂
𝘿𝙞𝙨𝙩𝙞𝙡𝙡𝙚𝙧𝙮: Ardbeg
𝙉𝙖𝙢𝙚: Twenty Something
𝙏𝙮𝙥𝙚: Single Malt
𝘾𝙤𝙪𝙣𝙩𝙧𝙮: Scotland – Islay
𝘼𝙜𝙚: 23 Years old
𝘼𝙡𝙘 %: 46.3
𝘾𝙖𝙨𝙠𝙨: Ex-Bourbon & Ex-Oloroso Sherry
𝘾𝙝𝙞𝙡𝙡-𝙛𝙞𝙡𝙩𝙚𝙧𝙚𝙙: No
𝙉𝙖𝙩𝙪𝙧𝙖𝙡 𝙘𝙤𝙡𝙤𝙪𝙧: Yes (it doesn't say)
𝘿𝙞𝙨𝙩𝙞𝙡𝙡𝙚𝙙 𝙞𝙣: 1994
𝘽𝙤𝙩𝙩𝙡𝙚𝙙 𝙞𝙣: 2017
🅼🆈 🆃🅰🆂🆃🅸🅽🅶 🅽🅾🆃🅴🆂
👃: vanilla, raisin, pleasant smoke, fruits, caramel, leather
👄: raisins, prunes, vanilla, dark chocolate, lovely soft smoke
😋: longe lovely smoke, herbs, dark chocolate, plum
You can not compare the 22 year old and the 23 year old as they are of different cask maturation and two very different whiskies.
If I had to choose between the two tho, my choice would fall on the 23 year old. Not because of the age but I really enjoy the combination of the sweetness from the sherry and the smoke.
Thank you Jesper Søberg for a lovely experience with two lovely Ardbeg whiskies.
𝙄 𝙬𝙞𝙡𝙡 𝙜𝙞𝙫𝙚 𝙩𝙝𝙞𝙨 𝙬𝙝𝙞𝙨𝙠𝙮: 🥃🥃🥃🥃🥃🥃 (6/6)
🅼🆈 🆁🅰🆃🅸🅽🅶 🆂🆈🆂🆃🅴🅼
🥃🥃🥃🥃🥃🥃 – 𝙀𝙭𝙩𝙧𝙖𝙤𝙧𝙙𝙞𝙣𝙖𝙧𝙮 𝙬𝙝𝙞𝙨𝙠𝙮 – 𝙙𝙚𝙛𝙞𝙣𝙞𝙩𝙚𝙡𝙮 𝙖 𝙠𝙚𝙚𝙥𝙚𝙧
🥃🥃🥃🥃🥃 – 𝘼 𝙗𝙚𝙖𝙪𝙩𝙞𝙛𝙪𝙡 𝙬𝙝𝙞𝙨𝙠𝙮 – 𝙊𝙣𝙚 𝙛𝙤𝙧 𝙩𝙝𝙚 𝙨𝙝𝙚𝙡𝙛
🥃🥃🥃🥃 – 𝙂𝙤𝙤𝙙 𝙖𝙣𝙙 𝙄 𝙙𝙤𝙣'𝙩 𝙝𝙖𝙫𝙚 𝙩𝙤 𝙩𝙝𝙞𝙣𝙠 – 𝙈𝙮 𝙚𝙫𝙚𝙧𝙮𝙙𝙖𝙮 𝙙𝙧𝙖𝙢 𝙢𝙖𝙮𝙗𝙚
🥃🥃🥃 – 𝙉𝙤𝙩 𝙗𝙖𝙙 – 𝙄'𝙡𝙡 𝙙𝙤 𝙞𝙩 𝙖𝙜𝙖𝙞𝙣 𝙨𝙤𝙢𝙚 𝙙𝙖𝙮
🥃🥃 – 𝙄𝙩 𝙬𝙖𝙨 𝙛𝙪𝙣 𝙩𝙖𝙨𝙩𝙞𝙣𝙜, 𝙗𝙪𝙩 𝙄 𝙢𝙞𝙜𝙝𝙩 𝙣𝙤𝙩 𝙙𝙤 𝙞𝙩 𝙖𝙜𝙖𝙞𝙣
🥃 – 𝙇𝙚𝙩'𝙨 𝙟𝙪𝙨𝙩 𝙨𝙖𝙮 𝙄 𝙝𝙖𝙫𝙚 𝙩𝙧𝙞𝙚𝙙 𝙞𝙩