---
I was invited as guest speaker at a online tasting hosted by Vault of Spirit a Danish web shop.
We tasted 6 whiskies with different expressions and had 480 participants sitting at home enjoying some good whisky and talk provided by Daniel The Whisky Viking, Benedikte (the owner of Vault of Spirits) and me.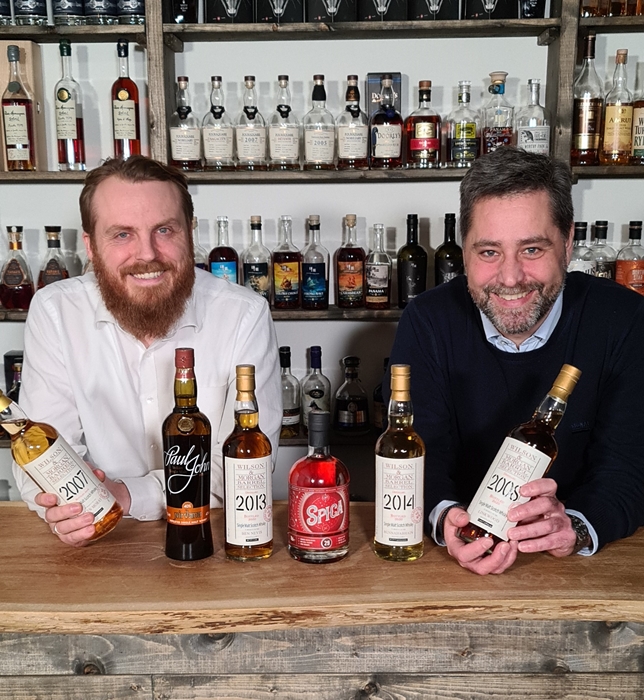 Bunnahabhain mainly make unpeated whisky – actually 65% is unpeated, so that leaves 35% for the peated whisky and when they smoke, they smoke heavy.
Wilson & Morgan is an independent bottler of Scotch malt whisky and have been selecting casks for bottling since 1992. You can get a little disorientated by the name and think Wilson & Morgan is English or Scottish but they are Italian. Maybe I will tell about Independent bottlers in another post. I love the saying or rule the Wilson & Morgan CEO Fabio Rossi follows when he chooses the different casks: "Trust your palate and your instinct." – This is what is all about.
I like Bunnahabhain whiskies and this one is no exception, But it is very classic to the Islay style. I think if I had this one and an Ardbeg "Wee Beastie" that also has been matured for 5 years in ex-bourbon casks, I don't think I can tell the difference. Well maybe I should try that one day.
This is a easy drinking young peated whisky and if you are liking Islay whiskies, you will like this one as well. What can I say – Just do it 😉
Give it a few drops of water and you tame it a little.
I believe this one was rated the evenings top whisky from the participants.
🅵🅰🅲🆃🆂
𝘿𝙞𝙨𝙩𝙞𝙡𝙡𝙚𝙧𝙮: Bunnahabhain
𝘽𝙤𝙩𝙩𝙡𝙚𝙧: Wilson & Morgan
𝙉𝙖𝙢𝙚: Heavy Peat
𝙎𝙚𝙧𝙞𝙚𝙨: Barrel Selection
𝙏𝙮𝙥𝙚: Single Malt
𝘾𝙤𝙪𝙣𝙩𝙧𝙮: Scotland – Islay
𝘼𝙜𝙚: 5 Years old
𝘼𝙡𝙘 %: 48
𝘾𝙖𝙨𝙠𝙨: Butts (500L)
𝘽𝙖𝙩𝙘𝙝: Cask no.: 14010129/30
𝘾𝙝𝙞𝙡𝙡-𝙛𝙞𝙡𝙩𝙚𝙧𝙚𝙙: No
𝙉𝙖𝙩𝙪𝙧𝙖𝙡 𝙘𝙤𝙡𝙤𝙪𝙧: Yes
𝘿𝙞𝙨𝙩𝙞𝙡𝙡𝙚𝙙 𝙞𝙣: 2014
𝘽𝙤𝙩𝙩𝙡𝙚𝙙 𝙞𝙣: 2019
𝙇𝙞𝙢𝙞𝙩𝙚𝙙: 1582 bottles
🅼🆈 🆃🅰🆂🆃🅸🅽🅶 🅽🅾🆃🅴🆂
👃: A good load of smoke, Classic young smoke, sweetness, vanilla, a little medicin cabinet, salt, a pleasant smoke
👄: Streight down the smoky road, peat smoke, sweet, actually soft for a young whisky, oily, vanilla and some licorice root
😋: A pleasant medium to long smoky finish
𝙄 𝙬𝙞𝙡𝙡 𝙜𝙞𝙫𝙚 𝙩𝙝𝙞𝙨 𝙬𝙝𝙞𝙨𝙠𝙮: 🥃🥃🥃🥃 (4/6)
🅼🆈 🆁🅰🆃🅸🅽🅶 🆂🆈🆂🆃🅴🅼
🥃🥃🥃🥃🥃🥃 – 𝙀𝙭𝙩𝙧𝙖𝙤𝙧𝙙𝙞𝙣𝙖𝙧𝙮 𝙬𝙝𝙞𝙨𝙠𝙮 – 𝙙𝙚𝙛𝙞𝙣𝙞𝙩𝙚𝙡𝙮 𝙖 𝙠𝙚𝙚𝙥𝙚𝙧
🥃🥃🥃🥃🥃 – 𝘼 𝙗𝙚𝙖𝙪𝙩𝙞𝙛𝙪𝙡 𝙬𝙝𝙞𝙨𝙠𝙮 – 𝙊𝙣𝙚 𝙛𝙤𝙧 𝙩𝙝𝙚 𝙨𝙝𝙚𝙡𝙛
🥃🥃🥃🥃 – 𝙂𝙤𝙤𝙙 𝙖𝙣𝙙 𝙄 𝙙𝙤𝙣'𝙩 𝙝𝙖𝙫𝙚 𝙩𝙤 𝙩𝙝𝙞𝙣𝙠 – 𝙈𝙮 𝙚𝙫𝙚𝙧𝙮𝙙𝙖𝙮 𝙙𝙧𝙖𝙢 𝙢𝙖𝙮𝙗𝙚
🥃🥃🥃 – 𝙉𝙤𝙩 𝙗𝙖𝙙 – 𝙄'𝙡𝙡 𝙙𝙤 𝙞𝙩 𝙖𝙜𝙖𝙞𝙣 𝙨𝙤𝙢𝙚 𝙙𝙖𝙮
🥃🥃 – 𝙄𝙩 𝙬𝙖𝙨 𝙛𝙪𝙣 𝙩𝙖𝙨𝙩𝙞𝙣𝙜, 𝙗𝙪𝙩 𝙄 𝙢𝙞𝙜𝙝𝙩 𝙣𝙤𝙩 𝙙𝙤 𝙞𝙩 𝙖𝙜𝙖𝙞𝙣
🥃 – 𝙇𝙚𝙩'𝙨 𝙟𝙪𝙨𝙩 𝙨𝙖𝙮 𝙄 𝙝𝙖𝙫𝙚 𝙩𝙧𝙞𝙚𝙙 𝙞𝙩