🅳🅸🆂🆃🅸🅻🅻🅴🆁🆈 🅵🅰🅲🆃🆂
𝘾𝙤𝙪𝙣𝙩𝙧𝙮 – 𝘾𝙞𝙩𝙮 – 𝙍𝙚𝙜𝙞𝙤𝙣: Australia – Launceston – Tasmania
𝙁𝙤𝙪𝙣𝙙𝙚𝙙: 2015
𝙎𝙩𝙖𝙩𝙪𝙨: Active
𝙊𝙬𝙣𝙚𝙙 𝙗𝙮: Five Partners
𝙒𝙚𝙗𝙨𝙞𝙩𝙚: www.launcestondistillery.com.au
𝙋𝙧𝙤𝙙𝙪𝙘𝙩𝙞𝙤𝙣 𝙘𝙖𝙥𝙖𝙘𝙞𝙩𝙮 𝙥𝙧. 𝙮𝙚𝙖𝙧: 5200 Litre This is about what they make at the time. 100 liters per week = 1 cask.
𝘿𝙖𝙩𝙚 𝙫𝙞𝙨𝙞𝙩𝙚𝙙: 2020, February 22nd
---
On mainland Australia I wanted to visit some distilleries and at Whisky bar I had been recommended, but I had either missed the opening hours or forgot to check if they were open at all.
I was convinced that I had learned a thing or two about opening and closing hours, so before we went to Tasmania I researched how the situation was at Launceston Distillery – They are closed on Saturdays, so this visit just went down the drain.
We flew from Melbourne to Launceston on Saturday 22nd February and since I thought it was obvious to visit the distillery which is located in Hangar 17 in the airport area, it was a bit of a downturn to find out that they had closed just the day we passed .
When we had picked up the rental car, I sat behind the wheel and asked my wife, Gitte and Per if it was okay we just looked at the distillery from the outside now that we were so close.
They must have had a little pity on me, so they all said it was fine. It was at the direction we were going anyway so nothing missed but I had to settle for a snapshot of the outside of Hangar 17.
2 minutes later I turned the car into the distillery area and to my great pleasure I saw the sign – OPEN. Wuhu what a surprise – this is looking good.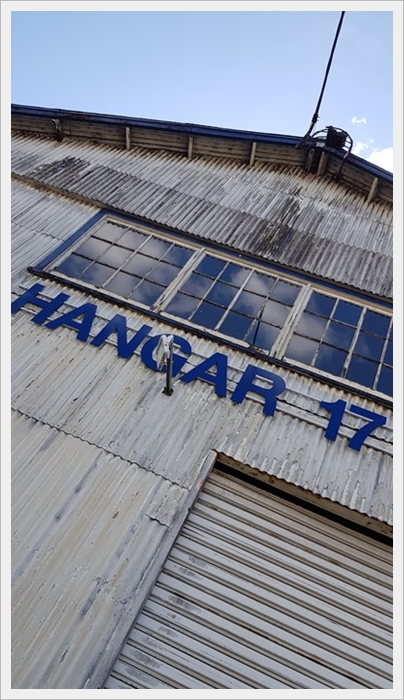 Inside, we meet Chris Byrne, a calm gentleman who lights up with a smile. I tell I was a little surprised that they were open and that I had written them in advance but got no response. Chris just calmly said that he was sorry that I had not been answered to my inquiry, but that it was one of the younger ones who managed their Instagram. They had opened a little extraordinary because the "Evandale Village Fair" was going on this Saturday and Launceston Distillery was the sponsor – Fine with me, they were open 🙂
Chris B is one of the owners and he really wanted to tell about the distillery. He started with the story of the Hangar, about how they had come to live there and had restored it, etc.
A funny story and it was followed well by Per's vast knowledge of the airlines that have had the hangar in the days when it was in operation.
In the shop which was also the entrance and tasting room. they had the original check in counter, airplane seats and an airplane serving cart that they used when hosting tastings away from the distillery. Ingenious and original.
They have been distilling since 2015, so their whisky is not old, but there is good taste in it.
Two of the five owners, they are both named Chris by the way, are both chemists and work on the basis of pharmaceutical precision and have an idea that it does not have to take that long to do something well if you just make an effort from the start and do it right.
The other Chris Condon is the Distiller. He comes from pharma, but switched to becoming a brewmaster at one of Tasmania's largest breweries; James Boag's Brewery.
Later he was a Distiller at the Nant Distillery.
Now Chris C is one of the owners of Launceston Distillery, so they are not completely newcomers in the whisky business, you might say.
They have chosen an approach in making their whisky, that nothing is ruled out, but they will start by producing good quality whiskey which is aged in Bourbon casks, Tawny casks and Apera casks.
We know the bourbon cask, Tawny we can recognize, but what are Apera casks? Yes, a good question, and the short answer is; "Sherry casks" – Well, just as Champange can only be called Champange if it comes from the Champange district in France, and therefore you can not call sherry and port wine made in Australia for just that – That is why in 2010 they made the name "Apera" which is taken from the word aperitif. That is also why it does not say Tawny Port, but only Tawny.

The distillery is set up in the old Hangar and is both fermenting rum, distilling rum and storage. Actually it is quite fascinating to overlook the whole production in one place and in the same time see aviation stuff.
They use local Tasmanian malted barley and pure river water taken from the longest river in Tasmania, The South Esk.
They have one 1100 Litre Stainless steel Mash Tun, Three 1500 Litre Stainless steel fermenters/Washbacks, One 1600 Litre Wash Still and a 700 Litre Spirit Still. The wash still and the spirit still both have rather large reflux balls. They are heated with gas and have a clad og wood. Between the still wall and the clas is isolation to heat the stills – not the rum.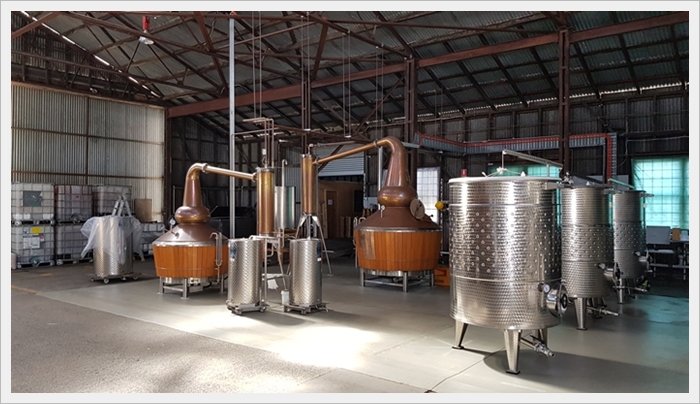 I got a nice tasting of their whiskies and also tasted their New Make which is delicious, creamy and full-bodied in itself with a good taste of the Tasmanian barley.
There is a lot of taste in the whisky because so far they have only matured in 100 liter barrels, which gives a good contact with the wood and more flavor. Combined with the wood and an angels share of 7-8%, it gives a delicious round full bodied whisky.
Now, I hate to talk about favorites, but I'm pretty keen on their Bourbon Cask. I got to taste it at 46% and 62% abv versions – and they were delicious.
Then comes Apera Cask and finally Tawny. They are both lovely and special in their own way, with a slightly different sherry flavor, more nutty than I experience in the dry oloroso sherry versions. Tawny is more plum and prune sweet and just over the top for me.
Cask Strength Bourbon cask has received 94 points in the Whisky Bible 2020 – so if it is a measure, it is not so bad 😉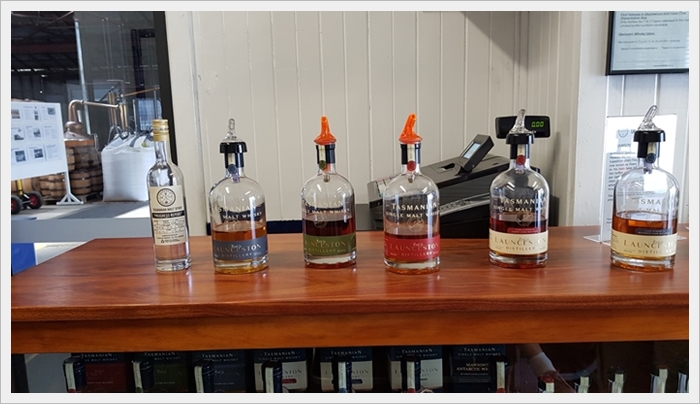 A wonderful visit and thanks to Chris B for sharing your knowledge and whisky with us.