🅳🅸🆂🆃🅸🅻🅻🅴🆁🆈 🅵🅰🅲🆃🆂
𝘾𝙤𝙪𝙣𝙩𝙧𝙮 – 𝘾𝙞𝙩𝙮 – 𝙍𝙚𝙜𝙞𝙤𝙣: Scotland – Pencaitland – Lowland
𝙁𝙤𝙪𝙣𝙙𝙚𝙙: 1837
𝙎𝙩𝙖𝙩𝙪𝙨: Active
𝙊𝙬𝙣𝙚𝙙 𝙗𝙮: Diageo
𝙒𝙚𝙗𝙨𝙞𝙩𝙚: www.malts.com
𝙋𝙧𝙤𝙙𝙪𝙘𝙩𝙞𝙤𝙣 𝙘𝙖𝙥𝙖𝙘𝙞𝙩𝙮 𝙥𝙧. 𝙮𝙚𝙖𝙧: 2500000 Liter pure alcohol
𝘿𝙖𝙩𝙚 𝙫𝙞𝙨𝙞𝙩𝙚𝙙: June 10th 2016
---
Everything has a beginning and my deeper whiskey interest started at this distillery. This is the first distillery I have visited which is a real whiskey distillery. I have visited breweries and been on holidays where we have seen how home-brewed alcohol has been made, so it was a bit of an experience to visit Glenkinchie.
My wife and I were on holiday in Edinburgh. It was the year when Queen Elisabeth turned 90, so it was a party to visit Edinburgh Castle one of the days with 21 cannon shots and bagpipe music.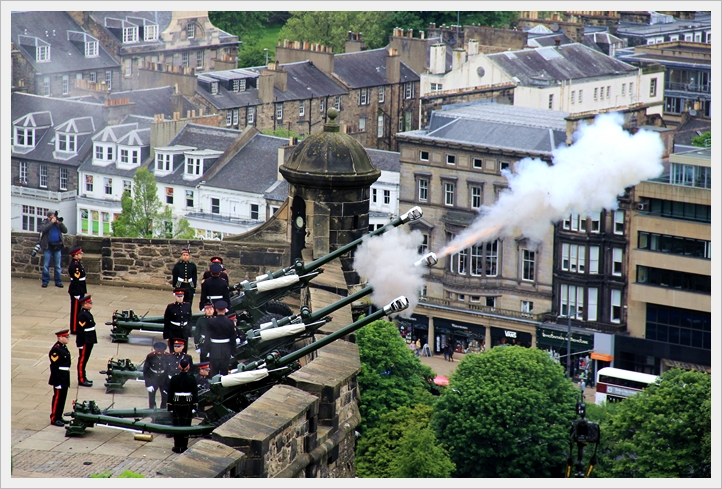 We had seen that it was possible to book an excursion to Glenkinchie distillery. Not bad, so it had to be tried.
We were excited, well maybe mostly me, and we did not know what to expect.
The bus ride went quickly along small roads from Edinburgh to the Distillery just over 25 kilometers southwest of Edinburgh.
We had booked a tour of the distillery and a tasting of 3 different whiskeys. We started by walking around the small museum looking at small pot stills and old bottles. It was interesting, but I had a hard time waiting to get around and see where the real magic happened.
We were finally picked up and the tour began with a nice story about the history of the distillery, which starts in 1826 where it went by the name Milton, but the actual distillery started in 1837. We also got the story that it was closed for a period and was transformed into a sawmill. Later, when blended whisky became very popular (ca. 1880), it was restored as a thoroughbred Lowland Distillery in 1890.
They also have a model of a distillery. It is actually a model that can produce whiskey! The model is on a scale of 1:6 and was built for the British Empire Exhibition in 1926.
Finally we came in where we could see how the barley was processed and where "beer" was brewed. We were given the opportunity to smell barley and were told where it came from, the different stages of germination and until it was ground into grist. Some were dried with heat from gas burners and others with heat and smoke. It was the first time I smelled smoked malt and it is a bit of an experience in itself.
We saw where the big Mash Tun tanks were and here we were again told we were not allowed to take pictures – arghhh. The explanation was that it was due to the danger of explosion. If just the smallest electric sparks occurred, there was a risk that the fumes in the room could ignite. Hmmm, at the same time as we were there, a movie crew came with lights on the cameras and other heavy equipment. It was some very special cameras that did not create heat and sparks ….. Yes, okay then…. Let's say so…
We entered the fermentation room and looked enchanted at the process that was going on and what a scent.
The next place was one of the iconic places in the distillery, and one of the places I really wanted the opportunity to take pictures – but, no. once again we were not allowed to take pictures. The room we were standing in was where the Stills were. The Largest Pot Stills in the UK – Wow! One, Low wines still, with a capacity of 20998 liters and the other, Washstill at an astonishing 30963 liters. An impressive sight.
Now we were going outside where we were locked into one of the warehouses, with explanations of strict customs rules, so we stood and watched from a distance on the barrels of whisky that matured, through a chicken wire fence. A cozy old dusty building where it could have been fun to be able to pat one of the casks- but not this time….
Incidentally, it is only a very small part of the whisky produced at Glenkinchie that actually lies and matures at the distillery. What remains at the distillery is primarily what is to be used for single malts. A large part is used for blended whisky. A good bit is used for Johnnie Walker.
Now it was time to taste the goods. The walk went past the large red brick buildings. It is not so common to use red bricks to build distilleries with, so Glenkinchie is also special in that area.
Somewhere between 1.5-2 million liters of whisky are produced at the Glenkinchie distillery per year, so they do not take full advantage of the capacity. However, it is still a nice amount of whisky.
Primarily 2 single malts are produced at Glenkinchie distillery which are The Glenkinchie 12 years and a Distillers Edition. You will hear more about them in another post.
We were briefly introduced to how to taste whisky to get the most out of it. Glenkinchie 12 years old was the first one we tasted. A good light and fruity experience. After that, there was "free play" on other whiskies. There was no opportunity to taste the Distillers Edition, unfortunately, but since Glenkinchie is one of the cornerstones of Diageo's Classic Malts, there was a wide selection from other of Diageo's distilleries represented.
This tasting gave me the opportunity to taste:
🥃 Glenkinchie 12 years
🥃 Clynelish 14 years
🥃 Blair Athhol 12 years
🥃 Glen Elgin 12 years
🥃 Lagavulin Distillers Edition 16 years
🥃 Talisker Distillers Edition
The visit to Glenkinchie distillery was a really good experience and has definitely helped to give my Whiskey Adventures an insight and a desire for more experiences and visits at other distilleries.
Now that this post is being loaded I can add that the Glenkinchie distillery needs a revisit because in 2020 they opened the doors to a thoroughly renovated visitor center. So I would think it can give a new good experience in the future.