---
The Vikings have brought back with them casks of Rioja wine.
Is it Twisted to mature whisky in wine casks? I think not.
Highland Park Twisted Tattoo is 16 years old and is a marriage of 153 casks laid down between 11th May 2000 and 29th October 2001, filled into 220 liter First-fill Rioja wine casks in January and March 2016 at 59.5% ABV.
70 First-fill Bourbon casks from 1999, filled at strength of between 63.6% and 63.7%. The 223 casks where married together in September 2018 and chill-filtered at 4°C.
The whisky is bottled at 46.7% ABV and has a lovely complexity with to changing palets.
The first taste is sweet creamy vanilla and a clear Rioja feel and red berries.
Then it changes to a more "classic" Highland Park expression with heather, honey, the Hobbister Moor Peat and some spiciness.
A lovely whisky that releases The "Full Volume" 🤔 Another expression….. but okay.
Anyway the Twisted Tattoo is an interesting whisky with the Twist of the red wine casks.
Did you know Loki, one of the gods in the Norse mythology, had "children"? Oh well, it is a little Twisted 😉
These children are no less than; The Fenris Wolf, Hel and The Midgard Serpent.
Jormungand (The Midgard serpent) was the second eldest child between Loki the Trickster and the giantess Angrboda. Kidnapped by the gods, he was cast into the waters that surround Midgard. There he laid until he grew so large that he ate large whales and was able to wrap himself around the world and bite his own tail.
The design on the bottle is a Tattoo of the Midgard Serpent twisting around a sword.
It is designed by the Danish Tattoo artist Colin Dale.
He is a very talented tattoo artist and modern Viking using the old techniques when tattooing and telling stories on skin.
Colin Dale was born in Canada but his roots are Danish.
A true skilled craftsman with a true Viking Soul.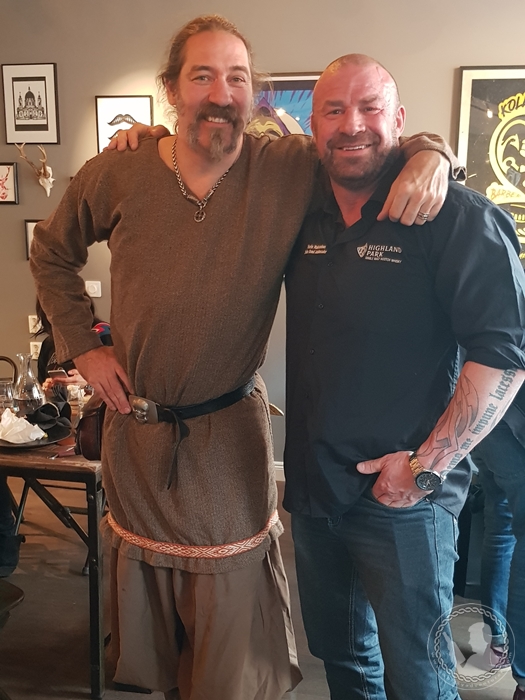 Cheers Colin Dale for a great design🐉 and great meeting you in Stockholm 🥃
Also a large toast to Highland Park and Martin Markvardsen for a good event release event in Stockholm.
I attended a Twisted Tattoo release event in Stockholm and had a great day with good stories and meeting fantastic people. I have made a little Youtube video where you can see more from the day.
🅵🅰🅲🆃🆂
𝘿𝙞𝙨𝙩𝙞𝙡𝙡𝙚𝙧𝙮: Highland Park
𝙉𝙖𝙢𝙚: Twisted Tattoo
𝙎𝙚𝙧𝙞𝙚𝙨: Special Releases
𝙏𝙮𝙥𝙚: Single Malt
𝘾𝙤𝙪𝙣𝙩𝙧𝙮: Scotland – Orkney
𝘼𝙜𝙚: 16 Years old
𝘼𝙡𝙘 %: 46.7
𝘾𝙖𝙨𝙠𝙨: First-fill EX-Rioja Wine Casks and First-fill EX-Bourbon
𝘽𝙖𝙩𝙘𝙝: 1
𝘾𝙝𝙞𝙡𝙡-𝙛𝙞𝙡𝙩𝙚𝙧𝙚𝙙: Yes
𝙉𝙖𝙩𝙪𝙧𝙖𝙡 𝙘𝙤𝙡𝙤𝙪𝙧: Yes
𝘿𝙞𝙨𝙩𝙞𝙡𝙡𝙚𝙙 𝙞𝙣: 1999, 2000-2001
𝘽𝙤𝙩𝙩𝙡𝙚𝙙 𝙞𝙣: 2019
𝙍𝙚𝙡𝙚𝙖𝙨𝙚𝙙: 2019
🅼🆈 🆃🅰🆂🆃🅸🅽🅶 🅽🅾🆃🅴🆂
👃: Sweet vanilla, a little alcohol burn, Vinous, maybe some orange peel, heather
👄: Sweet creamy vanilla and a clear Rioja red wine feel, red berries, heather, honey, a bit of the Hobbister Moor Peat smoke and some spiciness
😋: Nice oily feel, pleasant highland Park smoke, oak, a dry vinous touch
I really like this Twisted Tattoo because of the different touch from the Rioja red wine. There is a lot of classic Highland Park taste with a good fruity twist.
𝙄 𝙬𝙞𝙡𝙡 𝙜𝙞𝙫𝙚 𝙩𝙝𝙞𝙨 𝙬𝙝𝙞𝙨𝙠𝙮: 🥃🥃🥃🥃🥃 (5/6)
It might only be a 4.7 but I haven't made that scale 😉
🅼🆈 🆁🅰🆃🅸🅽🅶 🆂🆈🆂🆃🅴🅼
🥃🥃🥃🥃🥃🥃 – 𝙀𝙭𝙩𝙧𝙖𝙤𝙧𝙙𝙞𝙣𝙖𝙧𝙮 𝙬𝙝𝙞𝙨𝙠𝙮 – 𝙙𝙚𝙛𝙞𝙣𝙞𝙩𝙚𝙡𝙮 𝙖 𝙠𝙚𝙚𝙥𝙚𝙧
🥃🥃🥃🥃🥃 – 𝘼 𝙗𝙚𝙖𝙪𝙩𝙞𝙛𝙪𝙡 𝙬𝙝𝙞𝙨𝙠𝙮 – 𝙊𝙣𝙚 𝙛𝙤𝙧 𝙩𝙝𝙚 𝙨𝙝𝙚𝙡𝙛
🥃🥃🥃🥃 – 𝙂𝙤𝙤𝙙 – 𝙈𝙖𝙮𝙗𝙚 𝙢𝙮 𝙚𝙫𝙚𝙧𝙮𝙙𝙖𝙮 𝙙𝙧𝙖𝙢
🥃🥃🥃 – 𝙉𝙤𝙩 𝙗𝙖𝙙 – 𝙄'𝙡𝙡 𝙙𝙤 𝙞𝙩 𝙖𝙜𝙖𝙞𝙣 𝙨𝙤𝙢𝙚 𝙙𝙖𝙮
🥃🥃 – 𝙄𝙩 𝙬𝙖𝙨 𝙛𝙪𝙣 𝙩𝙖𝙨𝙩𝙞𝙣𝙜, 𝙗𝙪𝙩 𝙄 𝙢𝙞𝙜𝙝𝙩 𝙣𝙤𝙩 𝙙𝙤 𝙞𝙩 𝙖𝙜𝙖𝙞𝙣
🥃 – 𝙇𝙚𝙩'𝙨 𝙟𝙪𝙨𝙩 𝙨𝙖𝙮 𝙄 𝙝𝙖𝙫𝙚 𝙩𝙧𝙞𝙚𝙙 𝙞𝙩