---
This is CES No.1 from Mosgaard Distillery.
CES is short for Cask Experiment Serie.
In this case it has been more than just mixing different casks from the distillery.
Jes Mosgaard the owner and Master blender of Mosgaard Distillery invited 4 others people to join him in this experiment. I was one of the 4.
All 5 of us got samples from 7 different casks and was challenged to make the best whisky.
At a virtual tasting last week (October 29th, 2020) we presented our whisky and at the end of the tasting all participants voted for the best whisky – this was exciting….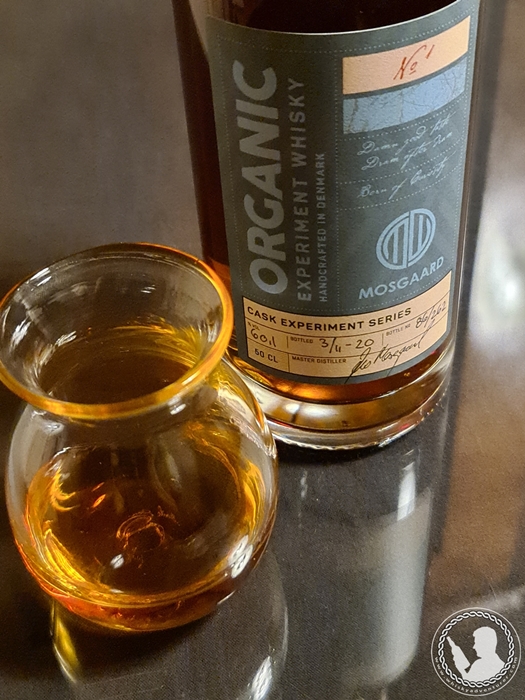 My whisky ended up on second place 🥈 and I am happy 😊
The winning whisky was blended by Thomas Rydberg the owner of the Danish magazine; Whisky & Rom magasinet @whiskyromdk
His whisky was blended and bottled for the marked and it is this one, The CES No.1 – Congratulations Thomas, a fantastic whisky!
A single malt mixed of 5 different casks and has a great taste and has a fine balance.
It is consisting of whisky matured in a ex-bourbon cask, a PX finish that startet in af French oak cask, a fully matured in a PX cask, a fully matured in a French oak cask and fully matured Oloroso cask. It is a young whisky. The youngest of the whiskies used i 3 years and 2 months old. The oldest is 3 years and 9 months old, so the term of this whisky would be a 3 year old. All the casks used are only 50 liter casks, which give more contact with the wood and matures faster. This means that the aging in a 50 liter cask is equivalent to a 3 years old whisky would a have a maturation similar to a 12 year old whisky that has matured in a 200-250 liter cask.
You get tast of vanilla, raisin, spices, nuts and dark chocolate.
This has been a fantastic adventure. Thank you so much Jes Mosgaard for inviting me to join the Cask Experiment.
🅵🅰🅲🆃🆂
𝘿𝙞𝙨𝙩𝙞𝙡𝙡𝙚𝙧𝙮: Mosgaard Whisky
𝘽𝙡𝙚𝙣𝙙𝙚𝙙 𝙗𝙮: Thomas Rydberg
𝙉𝙖𝙢𝙚: Cask Experiment No.1
𝙎𝙚𝙧𝙞𝙚𝙨: Cask Experiment Series
𝙏𝙮𝙥𝙚: Single Malt
𝘾𝙤𝙪𝙣𝙩𝙧𝙮: Denmark
𝘼𝙜𝙚: NAS
𝘼𝙡𝙘 %: 60.1
𝘾𝙖𝙨𝙠𝙨: ex-bourbon cask, French oak finished in a PX cask cask, PX cask, French oak cask and Oloroso cask. All casks are small 50 liter casks.
𝘽𝙖𝙩𝙘𝙝: No.1
𝘾𝙝𝙞𝙡𝙡-𝙛𝙞𝙡𝙩𝙚𝙧𝙚𝙙: No
𝙉𝙖𝙩𝙪𝙧𝙖𝙡 𝙘𝙤𝙡𝙤𝙪𝙧: Yes
𝘿𝙞𝙨𝙩𝙞𝙡𝙡𝙚𝙙 𝙞𝙣: Some casks are from 2016 and some from 2017
𝘽𝙤𝙩𝙩𝙡𝙚𝙙 𝙞𝙣: November 3rd,2020
𝙇𝙞𝙢𝙞𝙩𝙚𝙙: 262 bottels (50 cl)
𝙍𝙚𝙡𝙚𝙖𝙨𝙚𝙙: October 29th, 2020
🅼🆈 🆃🅰🆂🆃🅸🅽🅶 🅽🅾🆃🅴🆂
👃: Vanilla, dried fruit, a little leather, sweet pipe tobacco
👄: Creamy mouth feel, vanilla, raisin, spices, nuts and dark chocolate.
😋: Medium long, a little tannin bitterness, vanilla, dark chocolate, oak
𝙄 𝙬𝙞𝙡𝙡 𝙜𝙞𝙫𝙚 𝙩𝙝𝙞𝙨 𝙬𝙝𝙞𝙨𝙠𝙮: 🥃🥃🥃🥃🥃 (5/6)
🅼🆈 🆁🅰🆃🅸🅽🅶 🆂🆈🆂🆃🅴🅼
🥃🥃🥃🥃🥃🥃 – 𝙀𝙭𝙩𝙧𝙖𝙤𝙧𝙙𝙞𝙣𝙖𝙧𝙮 𝙬𝙝𝙞𝙨𝙠𝙮 – 𝙙𝙚𝙛𝙞𝙣𝙞𝙩𝙚𝙡𝙮 𝙖 𝙠𝙚𝙚𝙥𝙚𝙧
🥃🥃🥃🥃🥃 – 𝘼 𝙗𝙚𝙖𝙪𝙩𝙞𝙛𝙪𝙡 𝙬𝙝𝙞𝙨𝙠𝙮 – 𝙊𝙣𝙚 𝙛𝙤𝙧 𝙩𝙝𝙚 𝙨𝙝𝙚𝙡𝙛
🥃🥃🥃🥃 – 𝙂𝙤𝙤𝙙 – 𝙈𝙖𝙮𝙗𝙚 𝙢𝙮 𝙚𝙫𝙚𝙧𝙮𝙙𝙖𝙮 𝙙𝙧𝙖𝙢
🥃🥃🥃 – 𝙉𝙤𝙩 𝙗𝙖𝙙 – 𝙄'𝙡𝙡 𝙙𝙤 𝙞𝙩 𝙖𝙜𝙖𝙞𝙣 𝙨𝙤𝙢𝙚 𝙙𝙖𝙮
🥃🥃 – 𝙄𝙩 𝙬𝙖𝙨 𝙛𝙪𝙣 𝙩𝙖𝙨𝙩𝙞𝙣𝙜, 𝙗𝙪𝙩 𝙄 𝙢𝙞𝙜𝙝𝙩 𝙣𝙤𝙩 𝙙𝙤 𝙞𝙩 𝙖𝙜𝙖𝙞𝙣
🥃 – 𝙇𝙚𝙩'𝙨 𝙟𝙪𝙨𝙩 𝙨𝙖𝙮 𝙄 𝙝𝙖𝙫𝙚 𝙩𝙧𝙞𝙚𝙙 𝙞𝙩