---
It's exciting to see what Cooper King develops into when we are talking whisky. Their New Make tasted really good and it is now up to the casks whether they are chosen carefully and fits the spirits.
The choice of casks for this Maturing Malt, which I have had the pleasure of tasting, comes from MB Roland distillery in Kentucky,USA. The casks that have previously been used for Bourbon corn whiskey (1st fill bourbon, 2nd fill corn whiskey) have been used. It is slightly smaller barrels of 100 liters, of American oak and with a char Nr. 4.
Maturation on smaller barrels means that it goes faster because there is more contact between the spirit and the wood. I will write more about that at a later date.
Char No.4 means that the barrel has been burned inside. It has been burned for 55 seconds which gives a somewhat raw surface, therefore it is also called "Alligator Char". It gives a good sweetness to the spirit. More on that later.
Back to the 15 month old "Maturing Malt".
A lot has happened in 15 months and it gives a completely different taste experience compared to the New Make. A little alcohol has disappeared, from 60% to now 59.7% not much, but still enough to give you a different mild experience, yes of course you get the power and the taste that it is young spirits we are dealing with.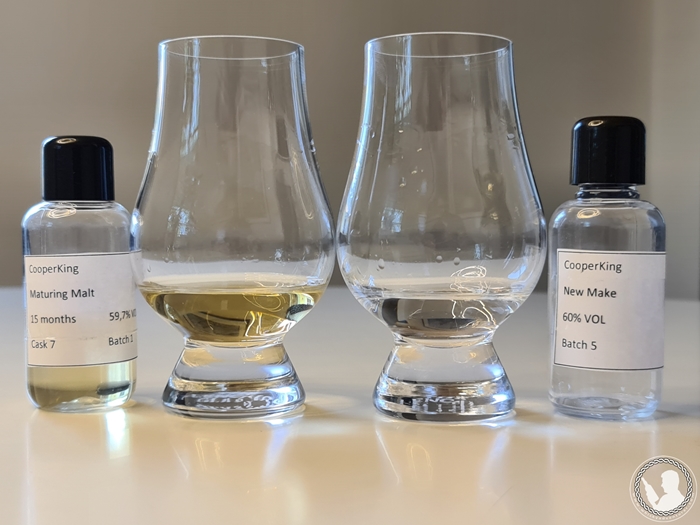 You can see the colour change from the all nutral coloured New Make on the right to the Champagne yellow Maturing Malt on the left side.
The influence of the casks has begun to take shape and we get some sweet cream caramel and a feeling of freshly cut wood. Imagine you have just cut firewood, you are standing with a piece of oak or beech wood and sniff it. It's a lovely scent. There are also notes of pepper, lime and something reminiscent of spruce needles or resin, which I do not think I experience so often, but it leads the taste a bit to barrel-aged gin.
The tast is pleasant and surprisingly soft when we take age into account. It increases in intensity and gets nice and warm with floral notes and ginger jam in a wonderful combination of good notes of barley.
I think the cask selection has been just fine and it will be exciting to taste the next spirits and whisky comeing from Cooper King.
They have revealed that they have some exciting cask lying. Some which have contained smoked bourbon, softer Corn whiskey and Cognac casks. It will also be exciting to taste what comes from the casks that come from Tasmania – and as they write; "We Haven't heard of others in England and Scotland who have matured on casks from that part of the world yet". I have tasted whisky from Tasmania and if you like good whisky, that is a corner of the world at look at 😉
🅵🅰🅲🆃🆂
𝘿𝙞𝙨𝙩𝙞𝙡𝙡𝙚𝙧𝙮: Cooper King
𝙉𝙖𝙢𝙚: Maturing Malt (cask sample)
𝙎𝙚𝙧𝙞𝙚𝙨: Founders' Club
𝙏𝙮𝙥𝙚: Spirit (Whisky on it's way 😉 )
𝘾𝙤𝙪𝙣𝙩𝙧𝙮: England
𝘼𝙜𝙚: 15 months
𝘼𝙡𝙘 %: 59,7
𝘾𝙖𝙨𝙠𝙨: Cask No. 7. ex-bourbon corn whiskey (1st fill bourbon, 2nd fill corn whiskey), 100 litres, American oak, char #4
𝘽𝙖𝙩𝙘𝙝: 1
𝘾𝙝𝙞𝙡𝙡-𝙛𝙞𝙡𝙩𝙚𝙧𝙚𝙙: No
𝙉𝙖𝙩𝙪𝙧𝙖𝙡 𝙘𝙤𝙡𝙤𝙪𝙧: Yes
𝘿𝙞𝙨𝙩𝙞𝙡𝙡𝙚𝙙 𝙞𝙣: 2019
𝘽𝙤𝙩𝙩𝙡𝙚𝙙 𝙞𝙣: 2021
𝙇𝙞𝙢𝙞𝙩𝙚𝙙: Only for Founders' Club members
𝙍𝙚𝙡𝙚𝙖𝙨𝙚𝙙: March 24th 2021. Limited-edition Founders' Selection Box (not for the general market)
𝙋𝙧𝙞𝙘𝙚 𝙧𝙖𝙣𝙜𝙚: € –
🅼🆈 🆃🅰🆂🆃🅸🅽🅶 🅽🅾🆃🅴🆂
👃: Toffee, fresh cut hard wood, lime, pepper, a small splash of glue, fresh green grass, mild spruce needles or maybe it is resin
👄: Creamy. Lands soft on the tongue and then turn up the heat, sweet vanilla, ginger marmelade, fresh harvested barley, red apples a touch of roses
😋: Pleasant creamy long meaty floral notes, soft peppery
If you don't wash your glass and nose it the day after or at least let it dry up in the glass, you are meet with a wonderful sweet toffee aroma a little cinnamon and nutmeg.
𝙄 𝙬𝙞𝙡𝙡 𝙜𝙞𝙫𝙚 𝙩𝙝𝙞𝙨 𝙬𝙝𝙞𝙨𝙠𝙮: 🥃🥃🥃🥃 (4.5/6)
Definitely a distillery to keep an eye on. A well-made new make and with the small barrels that provide good maturation conditions, I am pretty sure it will be interesting whisky in the future.
🅼🆈 🆁🅰🆃🅸🅽🅶 🆂🆈🆂🆃🅴🅼
🥃🥃🥃🥃🥃🥃 – 𝙀𝙭𝙩𝙧𝙖𝙤𝙧𝙙𝙞𝙣𝙖𝙧𝙮 𝙬𝙝𝙞𝙨𝙠𝙮 – 𝙙𝙚𝙛𝙞𝙣𝙞𝙩𝙚𝙡𝙮 𝙖 𝙠𝙚𝙚𝙥𝙚𝙧
🥃🥃🥃🥃🥃 – 𝘼 𝙗𝙚𝙖𝙪𝙩𝙞𝙛𝙪𝙡 𝙬𝙝𝙞𝙨𝙠𝙮 – 𝙊𝙣𝙚 𝙛𝙤𝙧 𝙩𝙝𝙚 𝙨𝙝𝙚𝙡𝙛
🥃🥃🥃🥃 – 𝙂𝙤𝙤𝙙 – 𝙈𝙖𝙮𝙗𝙚 𝙢𝙮 𝙚𝙫𝙚𝙧𝙮𝙙𝙖𝙮 𝙙𝙧𝙖𝙢
🥃🥃🥃 – 𝙉𝙤𝙩 𝙗𝙖𝙙 – 𝙄'𝙡𝙡 𝙙𝙤 𝙞𝙩 𝙖𝙜𝙖𝙞𝙣 𝙨𝙤𝙢𝙚 𝙙𝙖𝙮
🥃🥃 – 𝙄𝙩 𝙬𝙖𝙨 𝙛𝙪𝙣 𝙩𝙖𝙨𝙩𝙞𝙣𝙜, 𝙗𝙪𝙩 𝙄 𝙢𝙞𝙜𝙝𝙩 𝙣𝙤𝙩 𝙙𝙤 𝙞𝙩 𝙖𝙜𝙖𝙞𝙣
🥃 – 𝙇𝙚𝙩'𝙨 𝙟𝙪𝙨𝙩 𝙨𝙖𝙮 𝙄 𝙝𝙖𝙫𝙚 𝙩𝙧𝙞𝙚𝙙 𝙞𝙩